It is only 1 week until Christmas…one week!  How on earth did that happen?  I swear 5 minutes ago it was Christmas 2013 and then I blinked and we're getting ready for Christmas 2014.  It is crazy I tell ya.  We've had a great week, the girls had a short break from Ballet West and we took advantage.  We were able to go downtown to Temple Square to see the Christmas lights, Nate and I made a WHOLE bunch of goodies for neighbor Christmas gifts.  It was really fun to do them together.  We celebrated 5 family birthdays this past weekend and a bunch of us were able to go to Draper City and see the beautiful Tree of Life, they did an amazing job on it and it was a great opportunity to have a conversation about the reason for the Christmas season.  This week we're finishing up the rehearsals for the Ballet West Nutcracker and then the girls start performances on Monday.  I am so excited for them, I have no idea how they are SO brave!!  Do you have fun plans for the rest of this week?  I really need to finish Christmas shopping.  If you're done don't tell me OK?!  ~Jenn
We are changing up the linky party a little bit this week like we've done in years past.  We're opening up the party this week and it will remain open until 1/4/15 (Did you see that?  I just typed 15…as in 2015…where is my flying car??!!).  We really hope you'll come back each week and share what you've been up to with us but we also know we're all REALLY busy this time of year and hope that you are able to enjoy every moment of it.  On January 7th we'll be having a super-sized features post.  I can't wait to see what you've all been up to!
Welcome to the Riverton Housewives Round Up #141!
  We want to see it all!  Recipes, crafts, organization, refashioning…whatever you can come up with!
After linking up, please take some time to check out some of the other link and share the love!
We only have a few rules to play at our party!
~You must be a follower of our blog.  (Feel free to follow us on 
Facebook
 too!)
~Please pick a couple of your favorite posts and link up.  Just make sure it's nothing you've linked up with us before!
~Make sure you link back to our blog somewhere in your post or on your blog.  (A text link will be fine, but we do have a great button over there on the right you can use too!)
~Please no giveaways or Etsy shops.
~And we'd love for you to check out a few other linkers to share the love!
If you have been featured, be sure to check out our Pinterest where we have pinned all your awesome creations!
Also as a reminder, if we can't save a photo or link to the URL we can't feature your awesome stuff.
So get to linking up!  We can't wait to see all the amazing stuff you all have to share!
Here is what we LOVED from last Round Up!
I Dig Pinterest shared a recipe for Honey Gingerbread Loaf with Honey  Pecan Glaze.  I'm sure I've told you like 100 times now that I LOVE gingerbread and this looks amazing.
Life with Moore Babies (<~ cutest blog name right there) shared her
Egg Carton Snowman
craft.  Talk about something the kids would have a BLAST doing.  I love that they're snowmen so I can use this as an after Christmas craft while the kids are still on break from school.  SO cute!
Christmas Oreo Truffles
…YES PLEASE!!  The Crazy Craft Lady shared this yummy treat with us.  Look how adorable they are!!
Our most viewed this week comes from our cute friend Sydney over at Tastefully Frugal and is this darling gift/craft.  I can't believe how cute this
Have a Holly Lolli Christmas Lollipop Tree
turned out.  I have to agree it would be an awesome teacher gift (seems they're always looking for little goodies for the kids and dumdum suckers fill that roll well).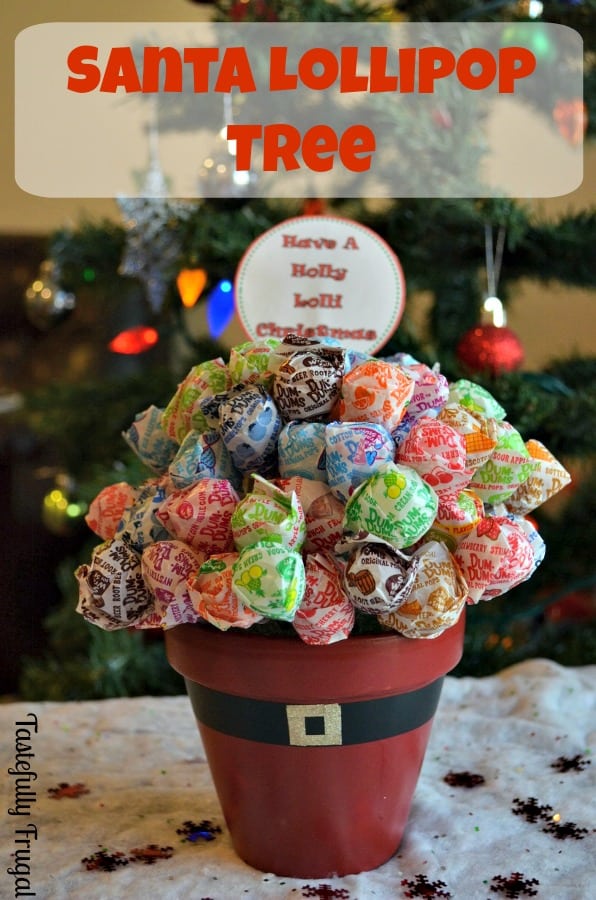 Thanks again friends for all of the great recipes and projects!  They were so fun to look through.
Don't forget we're having an extra long linky party this time.  I am hoping I'll have the opportunity to share some of the links on our facebook over the weeks as well!
You'll hear from me before then but in case you get busy and don't make it over here let me say MERRY CHRISTMAS!!  I truly hope it is wonderful for you!
Onto the party!!